Transylvania
Romania
Welcome to Transylvania, the land of Dracula and beautiful, wild mountains. On horseback, we will be wading through the virgin slopes of southern Carpathians, galloping through charming valleys and camping in medieval villages.
It's a trek for the picky: comfortable rural tourism, ecological food and high quality endurance equipment.
Days overall

Days in saddle

Group size

Available

Standard

high, great board and lodging

Food

local cuisine, vegetarian and vegan available

Skills
Transylvania is not only a magical land of hills sunken in thick fog, medieval villages sleeping in the shadows of castles and fortified churches, but it is also a land of cordial people, living in harmony with nature.
Our Transylvania trek is a high standard ride. We spend the nights in gorgeous rural accommodations (some of them located in antique rural establishments). We eat healthy and tasty meals made of ecological products only. We peek at the nature without interfering with the biodiversity or natural habitats of wild animals like wolves, bears and many other species.
We mostly ride Arabian horses, Shagya Arabians but also Kisbers and Hungarian half-blood Furioso horses. All of the mounts are vigorous and keen to move ahead while being well-behaved and responsive to the most delicate calls.
A typical daily route takes around 5 hours on horseback plus a break. We set off and finish in Șinca Nouă. It's a small town near Brașov, in South-Eastern Transylvania. We spend a total of six full days in the saddle.
What is included in this tour?
Items that are included in the cost of tour price.
Accommodation in high-standard rural establishments

Full alimentation (we only use organic products, mostly produced by ourselves or coming from the trusted local farmers)

Transfer from the Bucharest airport to Șinca Nouă

A company of an experienced guide

A horse with a complete tack

Entrance tickets to tourist attractions

Tourist insurance covering high risk sports
What is not included in this tour?
Items that are not included in the cost of tour price.
A flight ticket to and from Bucharest or a car drive.

Optional: tips for guides and ride service (around 15-20 Euro)

Optional: a donation of 40 Euros for the Carpathia project (recultivation of green areas of southern Carpathians)

Minor expenses (souvenirs, extra snacks, etc.)
Day 1

Arrival

The companions arrive in Bucharest by plane or by car. There are direct flights from Warsaw, so it is a good idea to agree on the same flight. Next, about 4 pm, the party gets in a bus and goes to Șinca Nouă; it's a 3-hour drive. In the evening, there is a ceremonial welcoming supper and afterwards the guide chooses a horse for everyone.

Day 2

The Daffodil Meadow

After breakfast, the party sets off. Ahead of us, there are 30 kilometers of a track leading through the Carpathian foothill. We pass by a nature reserve aptly named The Daffodil Meadow. There is more than one occasion for a long gallop. We spend the night in Mândra.

Day 3

Beyond Aluta

We cross the Aluta river in Halmeag and keep on riding along the Felmer valley. We gradually delve between the picturesque hills of Transylvania. This area offers a lovely view on the Făgăraș Mountains. The party stays overnight in the ecological farm in Cobor – an old Romanian village established by the Saxons centuries ago.

Day 4

The land of Transylvanian Saxons

On that day, we penetrate the Cobor surroundings. The companions will get the chance to admire various birds: bee-eaters, Eurasian hoopoe, gray shrikes, European stonechats or Lesser spotted eagles. If the weather is good, there will be many occasions for a fast gallop. Once more, we spend the night in the ecological farm.

Day 5

Viscri

On that day, the party heads to Viscri, the most famous Saxon village in Transylvania. It was founded in the XII century and its greatest attraction is a well-preserved fortified church. The companions stay the night at the farm offering the traditional Saxon cuisine. In the evening there is some spare time to walk around the area.

Day 6

The fortified church and the smith

After breakfast, the party visits the church and the local smith, who works by using historical manual techniques (traditional bellows, a hearth fueled by charcoal, etc.) After lunch, we mount our horses again and head to Jibert. The road isn't long and the pace is rather fast. We set a camp for the night in the forester's lodge.

Day 7

Oak Pastures

It is the last day of the horse trek. Lots of galloping through the hills and woods. We're passing by the picturesque oak pastures. Ultimately, we reach the Halmeag area, where we're greeted with a BBQ full of tasty treats. We go back to Șinca Nouă by bus for a ceremonial farewell supper.

Day 8

Back home

After breakfast, the companions take a bus to transport them to the Bucharest airport.
The guide might modify the route according to weather conditions and group's riding skills.
The Transylvania trek is a high-standard trek, intended for the most demanding companions. We spend nights in gorgeous rural accommodations, located in antique rural establishments. We offer access to Wi-Fi, electricity, and hot water. We provide clean sheets and towels.
On request, most farms offer single rooms. The additional cost is to be determined.
The traditional Romanian dishes are very fattening. During the trek, however, the cooks masterfully mix the regional cuisine with healthy nutrition rules. We almost exclusively use ecological ingredients, mostly produced by ourselves or taken from trusted local farmers. You can taste homemade sausages, fresh fruit and vegetables from our own garden and a delicious olive oil. Also available are alcoholic beverages – organic wines, beers from local breweries and home-made tinctures.
The entire Transylvanian project is based upon the rules of conscious tourism. We support the locals and the region and care not to interfere with the natural mountain environment processes.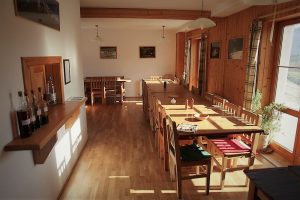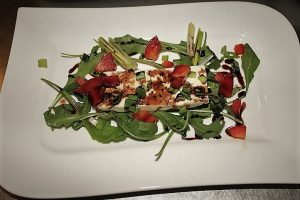 Equipment
In Transylvania, we use endurance-type saddles, accommodated for long distance horse rides. They are very light and spread the rider's weight evenly on the horse's back. The stirrups are wide and provide a firm leg support. Additionally, we use breastplates and cruppers. The horsecloths are equipped with small travelling bags, but it's better to keep your personal belongings (documents, money, phone) with you.
We use traditional bridles but we also use bits.
Attention! During the Transylvanian trek it is required to use a riding helmet. You can either bring your own or use a helmet available on-site.
What you should take with you
During the Transylvania trek, we are assisted by a spacious car that carries the luggage. Each day, all of the luggage is transported to the next location. We should only take necessary items with us, i.e.:
passport (or ID – EU citizens)
cash, preferably RON or EUR
electronic devices, e.g. camera
sunscreen
riding equipment (Jodhpur boots, riding helmet, gloves, etc.)
raincoat
mosquito repellent